As Quakers, we traditionally do not honor traditions such as Christmas, Halloween, the naming of weeks and months, swearing on the Bible.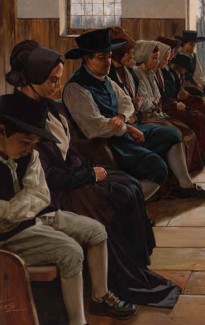 Wait… what? Does anybody actually do this anymore?

Nobody that I know. The Quakers I know call the days of the week by their names, eat a giant turkey dinner on Thanksgiving and unwrap presents on Christmas morning.
The only difference between us and the rest of the culture is that we might participate in "Buy Nothing Day" rather than Black Friday (but then we go shopping all the same).
My question is: have we lost something?
By celebrating holidays ("holy" days?) with the rest of the culture, are we consolidating our worship of God? Are we trivializing it?
The answer, for me, is: absolutely.


When to Be Thankful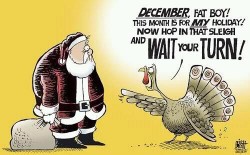 Take Thanksgiving, for example. (I know its not a "religious" holiday, but bear with me) I've seen a lot of folks on Facebook critiquing companies who have already started their advertising to Christmas shoppers.
I've also noticed folks observing the irony of Americans going shopping the day after they are supposed to be grateful for what they already have.
But I think that fighting for our practice of giving thanks on this one particular day each year is missing the point, which is this: we are incredibly blessed to be here. Every moment of this life is a joy.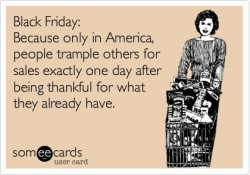 Our misery and disconnectedness is mainly because we have forgotten that. We don't have a practice of maintaining our thankfulness.
What if we didn't need Thanksgiving to remind us to be thankful?
What if our gratefulness exuded from us every time we walked out the door, greeted a friend or a stranger, took a breath?
I want this for myself because, selfishly, I know I would be happier, more connected.
I want this for you because I know it would build stronger relationships and emphasize your gifts.
I want this for us because it would build us up, connect us, vitalize our lives. Move us towards the "Beloved Community".
Are We Ready to Make Every Day Thanksgiving?
Probably not. What the early Friends were attempting by abolishing the celebration of specific holidays was ambitious: every day is a holy day. We shouldn't need Thanksgiving because we are constantly giving thanks.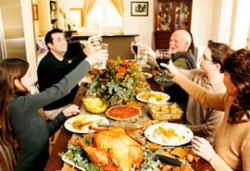 I am not calling for the return of our abolishment of Holidays. I don't believe that modern Friends have the discipline, the theological substructure or the community accountability. We would (and have) slipped into the pervasive and extremely convincing worldview that the advertisers would create for us: a severe and constant awareness of scarcity, of "not good enough", of "someday I will have enough and achieve gratefulness".
Instead, let's take what we've been given and make it work for us. Or, even better, let's make it work for God.
Thanksgiving is a great opportunity to be aware of and celebrate abundance. But I don't need an excessive meal to do it. I want to see the abundance that is all around me all the time. And I want to celebrate it.
That is why, this year, I am going to re-invent Thanksgiving for myself. I will celebrate Thanksgiving all week. And I'd like to invite you to my Thanksgiving.
A Week of Giving Thanks
I would like to invite you into a week of giving thanks. Let's try walking this path for a full seven days.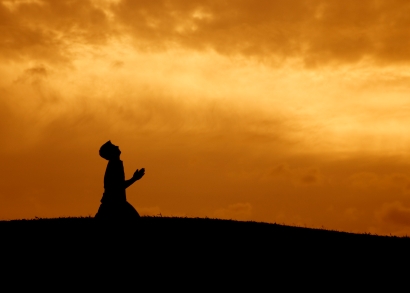 Instead of waking up in the morning and thinking about what feels bad and wrong, what I am striving toward and what I don't have yet, I'm going to focus on what feels good and right, what I am blessed to experience and humbled to witness.
And I'm not going to just limit my thanks giving to the obvious ones… things that we are used to giving thanks for: prosperity, resources, loved ones, abundance. I'm going to give thanks for this entire human experience. Pain, anger, struggle, conflict.
Because these are just as easily gifts, and more often openings for God's transformation.
Because every moment of this life is such a privilege.
And because my life and my impact on those around me is better when I know that.